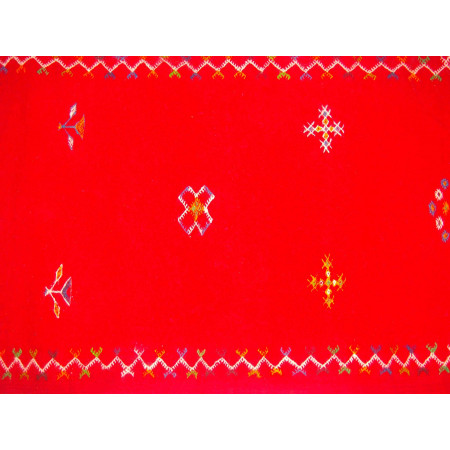 Beautiful Berber carpet entirely woven by hand in accordance with the Berber traditions.
The Mrirt carpet  is characterized by its colors red yellow and blue often of plant origin, the quality of its wool (usually sheep) and its geometric and tribal reasons.
The carpet weaving is an important source of income for Berber families in parts of Morocco. Each rug reflects an ancestral knowledge (the choice of colors, choice of forms or the quality of the wool). 
A knowledge that is transmitted from mother to daughter.
The Mrirt carpet is made in the area of Khenifra (north of Morocco) and geometric patterns usually tell the spirit of coexistence between these tribes and peoples of different beliefs and cultures.
dimensions: 110x58 cm
available in blue and red