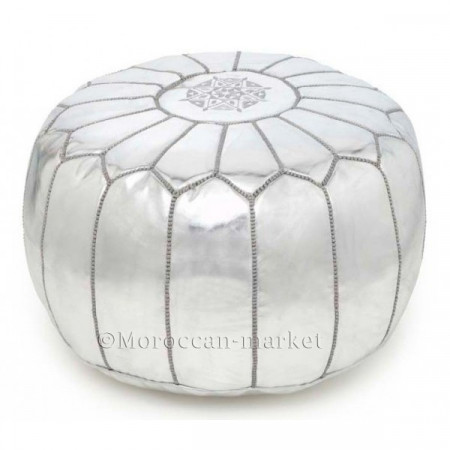 Moroccan Pouf vintage made by craftsmen in Marrakech. This pouf will bring a Moroccan touch to your home and quickly found its place in your living room for relaxation. This pouf can also be used as decoration or as a coffee table.
Silver gray leatherette
dimensions: 65 cm x 35 cm filled (13.5" x 20")
The Moroccan pouf is mainly manufacturing in the cities of Marrakech and Fez with the main use of leather. This handcrafted allowed to the Moroccan pouf a reputation for its authenticity and quality.
However in order to meet certain expectations, the Moroccan craftsmen have demonstrated innovation like this silver pouf made from 
faux leather (imitation leather). The silver colored, bronze and gold are indeed made of synthetic leather as these colors can't be obtained with a natural leather.
This pouf is sold without filling. Some suggestions for fill : foam or polystyrene flakes, kapok, wool or old clothes.